WELCOME TO LOS BUZOS PANAMA
Welcome to Los Buzos Panama. What was once a sleepy town at the end of the road is now a seaside village held up as a model for Panama's new sustainable tourism plan and offering a wide variety of activities for adventurous travelers. Whether from our Lodge, our family-friendly rental homes, or our unique Cala Pacifica Retreat Center, Los Buzos offers kayak and panga fishing vacations, world-class surfing, and whale watching on the water. Back on land, our Parque Los Buzos offers horseback riding, hiking, and a variety of nature tours in this amazing private wildlife preserve. Los Buzos is guaranteed to provide an adventure holiday of a lifetime.
We are located on Panama's Pacific coast Azuero Peninsula region where mass tourism doesn't exist making it the perfect place for an adventurous retreat.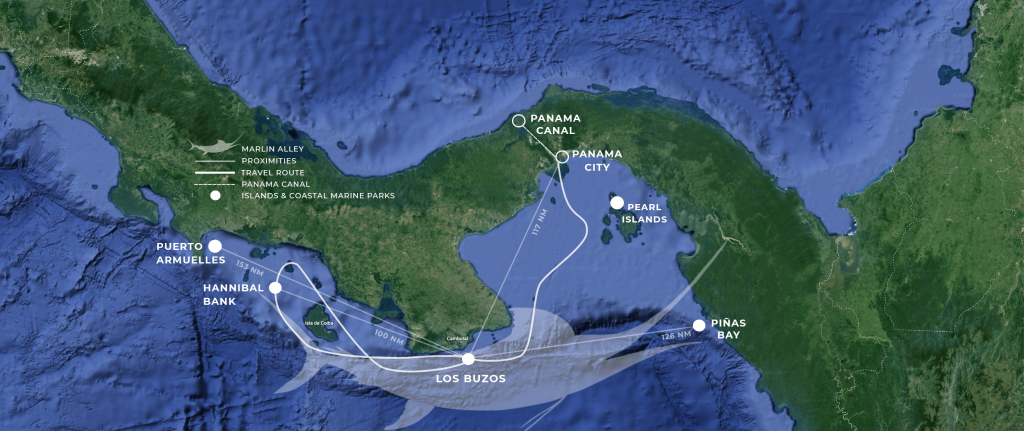 We Live Where The Fish Are
Los Buzos Panama sits in the center of Marlin Alley, a 200 mile stretch of pristine ocean stretching from legendary Hannibal Bank eastward to Pinas Bay.
Home to more than 30 current IGFA world records there is not a more prolific area on the planet to chase bucketlist fish. Among those records are Black & Blue Marlin, Pacific Sailfish, Wahoo, Broomtail & Goliath grouper, Cubera & several snappers, Bluefin & Bigeye Trevally, Mahi and of course the majestic Roosterfish – all in our catch logs here at Los Buzos
ABOUT OUR TOWN:LOS BUZOS, PANAMA
Los Buzos sits on the beach just 4 km beyond the community of Cambutal, as far south as one can drive from Panama city, or anywhere in North America for that matter. After a spectacular drive from Panama City, you find yourself among the howler monkeys, local cuisine, and the warmth of Panamanian hospitality.
Over the years Los Buzos and its neighbor, Cambutal, have evolved into a premiere adventure destination. Starting in 2006 with a pioneering development by Eagle Properties of Panama, Cambutal has grown from a sleepy, off-grid location known only to the surf community, into one of the most unique boutique locations in Panama – replete with modern conveniences yet maintaining the natural beauty and charm of the location. Eagle, a specialist in remote, environmentally sensitive developments, integrated the culture and natural elements of the area to create a plan for the landowner that allows for enhanced value of both residential and commercial properties while at the same time respecting the treasure that makes this a special place – the land and its people. Cambutal and Los Buzos now plays host to:
World-class near-shore deep water fishing
The best kayak fishing lodge in the world
Some of the best surf breaks in Central America
A rare protected basin for leisurely stand up paddle boarding
Horseback riding through the scenic hills of Parque Los Buzos
Boat tours to Cerro Hoya National Park
Kayaking, mountain biking, hiking, and exquisite relaxation
Residential Lots and Commercial Development Opportunities
Mountain and Beach Lots all with stunning ocean views
Introducing our Fishing Guides:
WHAT ARE YOU WAITING FOR?