Los Buzos Resort offers fun activities and amenities for the whole family. Whether you're looking to land the fish of a lifetime or simply relax and experience Panama's beautiful culture, fresh foods and natural beauty, Los Buzos Resort truly has something for everyone to enjoy.
What all does Los Buzos have to offer for your next trip? Visit our Resort Lodging page to see all available rooms, cabins, and houses. See our Resort Experiences page for a full detailed list of activities, adventures, and relaxation offerings. Interested in a corporate retreat experience like no other? Check out our Meetings and Retreats page to learn about our corporate retreat center and packages!
Continue on to learn a little more about Los Buzos, our village center, and what it offers during your stay!
Village Center is the common area and hangout spot where Roosterfish Bar & Grill and La Tiendita are located. This is where our guests come to relax and mingle. Set up a game of chess, checkers, dominos, poker, or darts with new friends, lounge around in our comfy seating areas and hammocks and take in the ocean breeze and tropical sights.
Roosterfish Bar and Grill
Roosterfish Bar and Grill (RBG as we call it) is where we go to eat, drink, and be merry! A country club style café and hangout serving Los Buzos Resort guests. Featuring an eclectic daily lunch menu from street food to southern barbeque sandwiches and custom catered dinners for our resort guests in the evenings.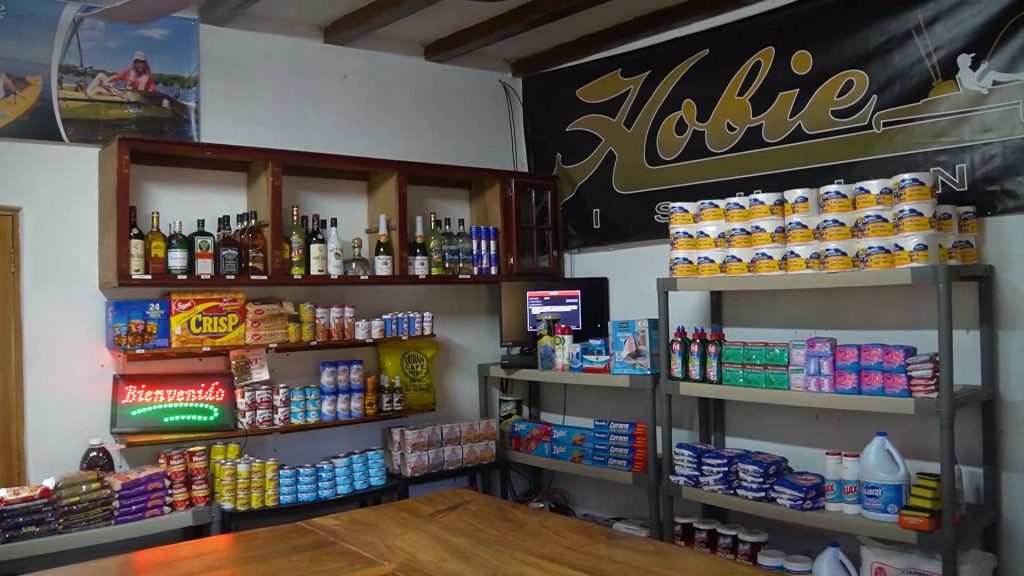 Spanish for "The Little Store" – this is where you can get what you need during your stay at Los Buzos. Specifically tailored to the needs and tastes of our predominantly US and European clientele, La Tiendita stocks a wide range of products. From bottles of Makers Mark, Jameson, and Patron premium liquors to authentic Montecristo Cuban cigars, and local hand-carved nut ivory figurines – to necessities such as sun hats, water shoes and flip flops, sunscreen, nail clippers, and dental floss – to groceries like beans, rice, bread, fresh veggies, meats and seafood.
La Tienda is also where you can book and learn more about the activities available at Los Buzos. Visit our resort experiences page for information on all tours, expeditions and adventures.
Equipped with a 60 inch flat-screen and a 15 foot cinema projector, guests can watch and relive the fresh footage from the day's catches. Sometimes you may even be eating the same fresh fish caught on video, prepared as sashimi! As a full functioning media center, we broadcast live sports and events as requested.