The answer to the question is 'depends on the type of fishing you want to do'. Note that many of the fishing lodges are not open all year round but Los Buzos does not suffer from this restriction due to its unique location.
Los Buzos Location
Like the Mantra goes location, location, location. This is an edict that marina developers in Panama have ignored for years, much to the detriment of the sportfishing tourism industry. Panama's world famous lodges know exactly where the fish are – in the zone stretching from world renowned Hannibal Bank, crossing just in front of Los Buzos and continuing on to the legendary grounds around Pinas Bay. This World Famous stretch, known as Marlin Alley, is one of the most sought after areas in the world and an area where world class fishing exists from one end to the other. Each end and the middle have world famous lodges hosting visitors from across the globe.
Lack of Marinas in Marlin Alley
Surprisingly, despite the world-famous fishing there is a severe shortage of marinas for captains to dock their boats. Currently there is only one marina permit issued and it is Los Buzos Resort and Marina.
Using the golf course model – where you build an amenity to make where you want to develop more attractive – Panama can boast world class marinas in Panama City, Playa Blanca, and Pearl Islands. All of these are, or will become, renowned Yachting destinations attracting sailing vessels and motor yachts from around the world. But given their location on the Bay of Panama and its heavy commercial trawling and netting pressure none are on the wish list as a home base for the top game boats worldwide. Even more so than the top lodges in the Gulf of Chiriqui, these locations all have 60 to 100 mile runs to reach the lucrative Marlin Alley waters which is where these boats want to be.
Likewise, all are located directly in the path of one of the three famous gap winds in Central America, the Panama Gap, making the lucrative spring fishing season tough.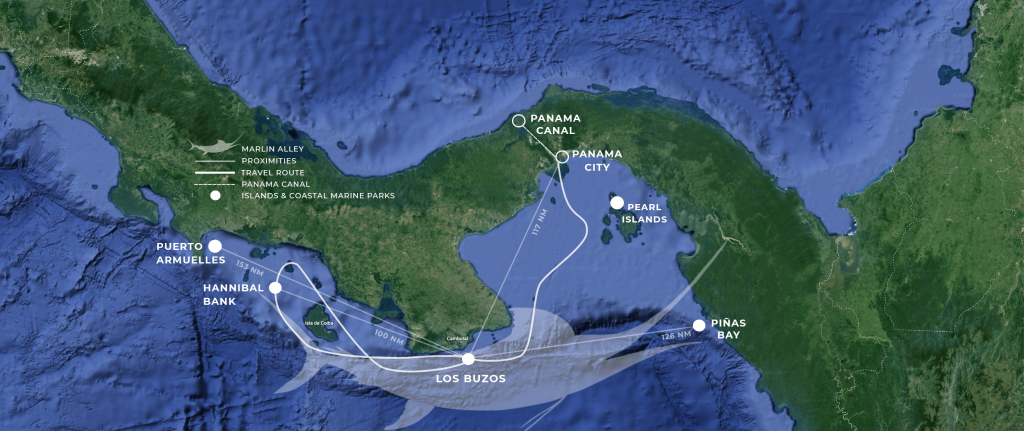 Los Buzos is blessed with not only a central location in this Marlin Alley but also the fishing grounds are just off the coast, a large portion of which is protected from the north winds by the Massive Cerro Hoya Mountain.
This lets us fish out front of the lodge or move east or west running parallel to the coast protected from winds and near safe havens from storms as opposed to running 50-100 miles out and having that run back either into a north wind or dodging storms.
The Weather in Marlin Alley
Speaking of winds, lets elaborate on the next major advantage of Los Buzos – the weather.
The strong north winds take most small boats out of the picture and make the bigger ones uncomfortable in most locations of Panama from early January often well into April.
To understand this main advantage Los Buzos has over the other locations in Panama you have to study the two graphics above carefully. There are many places where one can hide from the winds along the coastline – but only one where you can hide where you want to be with all the conditions that anglers seek. Offshore Blue water, near shore reefs and seamounts, and a rugged 22-mile undeveloped coastline rife with epic spots for casting flies, poppers or jigs.
The result – when most operations are shut down due to winds we just turn west and run some of our most epic trips for conventional and fly anglers. We loop offshore inside the protected cone created by the Cerro Hoya range (see Windy graphic) casting flies, poppers or jigs in front of schools of tuna, or troll the bluewater for mahi-mahi and blue marlin working our way back inshore to our various seamounts and reefs to live bait for big Roosterfish, Black Marlin, and Cuberas.
We finish the day working our way back to the lodge hitting different spots along the way and also working the shoreline for a wide variety of species. Maybe even take a stop at one of our deep spots and drop for some Gulf Coneys, Tilefish or Damsel Bass.
May Through December brings the showers and opens up a whole new set of options in addition to this spring loop as we like to call it.
Los Buzos is located at the tip of the Azuero Peninsula and is the southernmost community in what is know as the Dry Arc of Panama. In short, it's the driest part of Panama. While still obviously tropical and lush during this season the rains and storms are far less frequent and intense than in most of Panama. The norm is a quick, welcome afternoon shower which cools things off and often brings those glassy seas all fishermen love. The humpback whales arrive by the dozens to give birth and hang out in this amazing time of year. While we do experience some weeks of more intense rains those are generally also with much cooler weather.
The bottom line is we fish year-round and rarely ever cancel a day on the water, something that gives us a huge advantage over areas like Florida where this July to December season can bring as many unfishable days on small boats as fishable days.
Variety of Fish in Marlin Alley – Fishing in Panama
Finally, the advantage of fishing in Panama at Los Buzos is the variety of fishing – not just of species but also of access to the different structure, currents, conditions and types of fishing opportunities within close proximity.
This advantage is the main reason Los Buzos came from nowhere to become the best-known offshore kayak fishing destination worldwide in less than 5 years. Offshore kayaking puts a premium on the location of the fish which should be within 4 miles of the launch site. The best-known sites in the USA are redfish in Louisiana, pelagics in south Florida, or to the kelp beds for Yellowtail in California.
At Los Buzos that same range during a given day provides you with water depths from 0 to 2000 ft. Reefs, ledges and lumps to target a wide range of snapper, trevally, pompano and other reef fish including huge world record class cuberas with jigs and poppers. Live baiting blue runners and bonito around the perimeter of the reefs put you square in the sights of patrolling Roosterfish and Black Marlin, moving off a little deeper into the 300 ft range opens up the spots for Gulf Coneys, Damsel Bass, Tile fish and more delicacies. Finally, between these spots and off into the deeper blue water are the pelagics – yellowfin tuna, mahi, wahoo.
Few if any locations worldwide can boast this variety of fish including multiple world records that have been taken within eyesight of their lodge without even using a motor. Just imagine the opportunities that await from one of our custom pangas – extending your range just a bit but still making for comfortable days of fishing in Panama without those long brutal runs to and from the good fishing grounds.
After all, like we say at Los Buzos – We live where the fish are….and you can too.